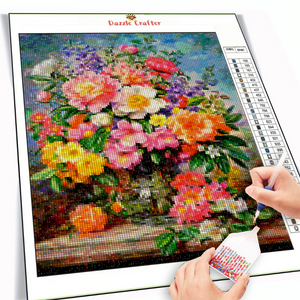 Craft lovers all over the world love this new innovative hobby "DIAMOND PAINTING " - a fusion of traditional Cross Stitch and Paint By Numbers.
YOU DON'T NEED ANY ARTISTIC OR SEWING SKILLS!!
....to create this handmade diamond art, just oodles of interest and excitement to create something beautiful!
AGE DOESN'T MATTER
... you can be a 12-year-old or even 60 years plus, this easy and non-messy craft can be learned in an hour.
UNWIND AND RELAX 
Diamond painting hobby lovers vouch for this stress buster and anxiety-reducing activity. Switch on your favorite music or podcast and feel the calmness engulf you!
LOOKING FOR A PERFECT GIFT IDEA?
You can create custom diamond paintings from self-portraits,  pictures of couples, kids, favorite pets, and gift them to family and friends for a special occasion.
SO MANY TO CHOOSE FROM
Check out the entire  DazzleCrafter™ catalog to find your favorite picture and start on a canvas soon! 
CUSTOMER FIRST POLICY
Our first priority is getting the satisfied feedback from you and we've got it covered with the risk-free guarantee for our kits. 1000's of happy customers and still counting !!